You summersault across the lawn,
lean into your butter-colored light
glowing. I live alone now.
Do you hear the empty house, that sound
deep inside: settling and yearning.
My bones feel the same
when I stare at your azure sky
that staggers my heart
with clouds that look like pieces
of floating cotton. You hold a hint
of summer, dust on the breeze
warm instead of cool.
Eskimos skip rocks on ice
and Bedouins on smooth sand.
Do you know,
all my life you've made me want
to be a flat rock
flying, not across ice or sand or water,
but to the other side of Monday
or Tuesday or even Saturday,
so I could sink back into your arms.
You are the beginning and the end,
my sit and sniff the river, leave the bed
unmade, cold pizza for breakfast day.
---
About the Author: Pat Phillips West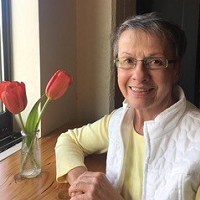 Pat moved so often even her closest friends asked if she was in the Witness Protection Program. She refused to comment, except to say she's in Olympia, WA, for now. Her poems appear in various journals including Haunted Waters Press, WA129+, San Pedro River Review, Modern Creative Life, Slipstream, Gold Man Review and elsewhere. She is a multiple Best of the Net and Pushcart Prize nominee.