Grannie had a quick, sure step—–tap, tap, tap— in her practical brogues, the kind of shoes grandmothers wore in the fifties and sixties. My every memory of her starts with the sound of those footsteps coming to the door, her arms outstretched to help me off with my coat, and a welcoming smile on her face. She was slim and wore print, belted dresses. No blue tint touched her short, curled, silver gray hair.
I first remember her on the farm she and Grandpa owned. Every summer I would spend a few days vacation with them. The staying-with-Grannie-and-Grandpa experience included several traditions. A night at the drive-in meant a Ma and Pa Kettle movie. The Kettles and their foolishness didn't interest me. I would have liked a movie with beautiful women in fancy clothes doing fancy things; but the Kettles were a tradition, and I pretended I enjoyed them. What I truly enjoyed was The Holloway candy that Grandpa bought me from the concessions stand.
Making hollyhock ladies topped the tradition list. A big stand of hollyhock bushes, the color of grape Kool Aid and pink peppermint, grew along the fence on a small lane east of the house.
Grannie would equip me with a box of toothpicks and a shiny silver cookie sheet, and off I'd go with St. Bernard Queenie by my side. With carefully chosen blossoms, organized by color, I would create a bevy of bridesmaids all dressed alike. A smaller, lighter-colored bloom became the flower girl. Of course, the bride would be in white
Making the ladies was easy. I stuck a toothpick through the base of the blossom and turned it upside down, so that the petals formed a skirt. Then I took a fat bud and attached it by the other end of the toothpick to the bottom of the blossom, which was the top of the lady. I don't know how I accounted for the groom, maybe he was a pinecone.
Anyway, the wedding would take place on the cookie sheet, all the ladies arranged to come down the aisle led by the flower girl, followed by the bride, in white. I would hum the wedding march and Queenie would lie nearby, her head cocked in puzzlement. Now if the Kettles had dressed half so well as my hollyhock wedding party, I'd have enjoyed them much more.
I would carry the cookie sheet wedding into Grannie's kitchen, and she would oooh and aaah. She had been baking while I made ladies, and the kitchen smelled better than the flowers. Her cinnamon rolls and twists tasted good enough to steal (which I confess to doing later when I was older). But then, when I was still small, she made a few miniature ones for me exactly like the big ones she made for Grandpa, who was working in the fields. Somehow, because they were so small and appealing, they tasted better than the big-people-size.
It was on Grannie's farm that I stayed when my dad was in the hospital for an appendectomy, and my mom visited him. I sat at the very same table where, on better days, I had devoured the miniature cinnamon rolls. On the day of the surgery, a stomach ache kept my head down on my arms, resting on the table. Grannie tried to tempt me with canned peaches, my favorite, but I didn't want canned peaches. I doubt even doll-size cinnamon rolls could have tempted me that day.
Late afternoon my mom came to pick me up, and Grannie told her of my unhappy day. Grannie filled a plastic bag full of ice cubes and I held it to my tummy while Mom drove me back into town to the doctor's office. Who would have believed that I, too, had appendicitis and needed an operation?  But it was so. I even stayed in the same hospital room as my dad, and we got a write-up in the Audubon County Journal.
When I was seven, Grandpa died. It was winter, artic cold outside and stuffy and overheated inside at my aunt's house, where we camped out during that turbulent week of hospitalization, death, and funeral. My uncle took over the farm and Queenie. Grannie moved closer to our family, to the town where I went to school.
I remember the move and how my mom and dad, mom's sister and her husband, readied  Grannie's new house for her in town, nine miles from our farm. On her sewing machine, my mom whipped up white kitchen curtains with turquoise blue borders. She and my aunt shampooed the couch and chair, a process I thought was only for hair.
The sweet, odd little house had a crooked, closed-in porch as an extension of the kitchen. Linoleum covered all the floors except the living room. You had to pass through one bedroom to a hallway that led to the second bedroom and the bathroom. The bathroom had a window which looked out onto the slanted porch.
When I stayed with Grannie, I slept in the back bedroom. There, in the winter, I would find one of her flannel nighties laid out, neatly folded, waiting for me. I had worn one when I got snowed in once, and I liked it so much that it became a regular thing. Visits in town included chicken pot pie dinners followed by gin rummy or a crochet lesson. Or we'd watch Hennessey, her favorite TV show. I liked it, too, Lt. Martha Hale appealed to me far more than Ma Kettle. Grannie liked Ricky Nelson's singing, and we would watch Ed Sullivan when he made guest appearances.
When I was in high school, Grannie had a stroke that left her paralyzed on one side and unable to talk. When Mom told me this, a big emptiness haunted me. I didn't recognize it as  grief. Grannie would be moved to a Care Center.
My parents organized a sale of her belongings, complete with an auctioneer who would sing out long strings of rapid-fire sales patter, but sounded to me like nonsense. The morning of the sale, when I was eating cornflakes at my own home, I mentioned casually, "I'd sure like to have her rocking chair." I spoke it as a passing thought. It never occurred to me I could actually have it. Mom looked at me, surprised, and said, "Well, we will just save it for you then." And I had that rocking chair in my room at home and in all my houses. I rocked my babies in it. It still has pride of place in my living room beside the piano.
So Grannie went in the Care Center and we visited her there. Summer jobs had me staying with my aunt in the same town as Grannie's Care Center. I could walk to visit her. Once I carted along her favorite pineapple sundae from Dairy Queen. Given the summer heat and the walk, her sundae was pineapple soup by the time I gave it to her. She accepted it with her usual grace, laughing a little, babbling excitedly in her now-absent speech. I wasn't sure if her excitement was surprise at the sheer audacity of walking several blocks in the summer heat with an ice cream sundae, or if it was pleasure and gratitude for my effort.
One other time I visited her, after having given in to every teenage girl's desire to dye her hair. My dark brown dye turned out almost black. Again, her excited babble greeted me, accompanied by headshaking. This time I knew she wasn't pleased. I think my hair bewildered her.
She died when I had moved half way across the country, the mother of two small children. I had taken a "show-off-the-new-baby trip" that summer, and she passed away that fall. I didn't make another trip for her funeral. I was glad I had seen her so shortly before. Now I have my beloved rocking chair, a blue doily she crocheted to match my teenage room, and a satin bag she kept her nylon stockings in. I use it for my jewelry when I travel.
The rocking chair still makes the same creak that it did on the farm, in the funny little house in town, in my own teenage room, and when I rocked my babies in it. One hundred creaks usually sent them to sleep. The blue doily is in sight as I write this, and I keep the satin case in my underwear drawer, just as she did. I feel her presence in these things.
Midwestern people in the nineteen fifties and sixties were still starchy. We weren't physically affectionate with hugs and kisses, and we didn't say "I love you," as easily as people do now. But we loved as deeply and loyally as people who did. So, I don't have memories of Grannie's hugs and kisses; but I never doubted our solid connection, which of course, was love. I trusted her completely. Deep down, I knew my almost-black hair was all wrong.
I am blessed and grateful to have had this woman so central to my life. I miss her. And, you know, I never see hollyhock bushes, anymore.
---
About the Author: Bernie Brown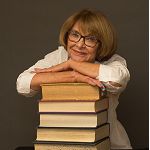 Bernie is an Iowa farm girl transplanted to Raleigh, North Carolina. When she isn't writing, reading, or watching British series like Father Brown and Monroe, she sews. Recent creations include baby doll pajamas and rock star dresses for her incomparably cute and clever granddaughters. She plays the harmonica with little success, but much pleasure.
Bernie's Iowa childhood, travels in the States and Europe, and her contemporary life in Raleigh, NC influence her writing. She has published nearly forty stories and essays in print journals, ezines, and anthologies with Modern Creative Life, and with the Devil's Party Press.  In addition to several short story awards won a decade or more ago, a recent story was nominated for a Pushcart Prize, and another appeared in an anthology of contest winners by Grateful Steps Publishing.
She is a writer-in-residence at the Weymouth Center for the Arts and Humanities and a member of the Women's Fiction Writers Association. In October 2019 Bernie's fondest dream came true. Moonshine Cove Publishing published her first novel I Never Told You.