So you see, the imagination needs moodling – long, inefficient, happy idling, dawdling, and puttering.
~ Brenda Ueland, If You Want to Write, A Book About Independence and Spirit
"Can you rest now?" my husband will sometimes ask me, after I've spent a day scurrying from one chore or activity to the next. "Can you just sit down and take a break?"
I admit it – I have a hard time sitting still. Being busy and productive is like medicine for me. It quiets my anxiety about life in general. It makes me feel useful and gives me the sense of satisfaction and accomplishment that's sometimes difficult to find since I retired from my day job.
But I can be hard on myself. The need to work is deeply ingrained, and I feel agitated if I don't heed the impulse. Sometimes the work calling me is domestic in nature – I like neat, clean spaces in my home; I like home-cooked healthy food; I have a very loved (read very spoiled) dog that requires tending. All this takes time and effort.
There is also creative work on my daily to-do list. I launched a monthly email newsletter this year and I'm trying to expand my community. I write a weekly blog post. I want to maintain a social media presence. In the midst of the pandemic, I decided to write a book. And I still want to learn all the six of the Opus 36 Clementi Piano Sonatinas and be able to play them really well for my grandson.
There is always plenty to feed my desire for activity.
But there's something about summer that nudges me toward easier living, that invites me to slow down and take my time. In these long, lazy days, the extra hours of daylight expand before me and give me permission to moodle.
I moodle on my morning dog walks through the neighborhood, stopping to let Lacey do her own dawdling and puttering around the flower beds and trees.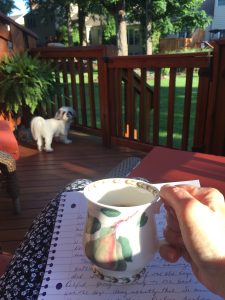 I moodle on the deck, curled in a comfortable chair with a second cup of coffee (hot or iced depending on the outside temperature) and an engaging novel or my writing notebook.
I moodle in the square of our quaint downtown, watching people wander by, seeing familiar faces and munching on a blueberry muffin from my favorite bakery, recently reopened after months of quarantine.
I moodle in my garden, watering and weeding, and coaxing the flowers to grow.
I moodle in the afternoon when I play the piano, happily tinkling out simple, joyful pieces that fall with great familiarity under my fingertips, allowing my mind to walkabout on its own as I play.
I moodle in the evening, curling up on the sofa next to my husband as we share a glass of wine and laugh our way through reruns of favorite TV comedies from the 1990's.
Sometimes – like this morning as I sit on my deck, an unseasonably cool breeze rustling the trees in our backyard, the birds flying in and out at the feeder, the sky a  blue canopy above me – I notice I'm actually content to just BE here. I realize I'm not feeling that familiar tightness in my gut that tells me to I should be up and doing something else, something more productive.
I can give this lush Michigan summer some of the credit for my newfound ability to rest, but I also think some of it also belongs to the lessons learned from my writing practice. I've been rethinking my dedication to writing during the past six months, and I've learned to look at my old responses in a new way. I've come to appreciate the process of things more than the product. As I set goals for my writing I've discovered the importance of taking time to think clearly about possibilities, to let my imagination work on its own without being forced into time slots and patterns. I've learned that the imagination really does crave space to settle into. It blossoms during those quiet, introspective periods when I'm engaged in quiet, introspective activity.
In other words, when I'm moodling.
Author Dani Shapiro writes about making peace with the discomfort that so often arises when writers sit down at their desk. "I decided to learn to meditate," she says, "though I thought as many do, that I'd be bad at it: I'm too type A. I can't sit still. But I needed something that, when I did get up from my desk, would bring me peace and clarity. All of my writer friends have rituals: my friend Jenny runs. John cooks barbecue. Mary swims. Ann knits. These are meditative acts – ones that allow the mind to roam, and ultimately to rest."
There is a LOT happening out there these days. Those of us who feel committed to peace and justice, those of us determined to leave the planet a better place, we feel the pain and uncertainty and anxiety of the hurting world, we worry about what we can do to make it better.  We believe art can help, can educate and inspire understanding. We feel the tug to put our creative boots on the ground and make some kind of difference.
But: "Do not feel, anymore, guilty about idleness and solitude," Brenda Ueland advises. "At such time you are being slowly filled and recharged with warm imagination, with wonderful, living thoughts."
These lazy, hazy days of summer are encouraging me to indulge in just that kind of idleness, to allow my mind to roam, recharge, and even to rest.  To let "wonderful, living thoughts" come, and hope I can someday use them for good.
---
About the Author: Becca Rowan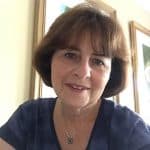 Becca Rowan is a writer living in Northville, Michigan, with her husband and their two year old Shih Tzu, Lacey Li. These days, when she's not busy writing or reading, you'll find her happily moodling around her home. She is the author of two books, Life In General and Life Goes On, and is at work on her third, Writing For Life, Creating a Writing Practice to Support You Through Every Season. You can connect with Becca on her blog, on Instagram and Facebook, or subscribe to her newsletter, Monday Musings.