I begin chopping carrots, parsnips,
and potatoes. Keep pace with the action
on the classic western channel,
swindlers and a dance hall girl conspire.
I stop. Slip into my apron, stained from years
of fancier meals tied to a kitchen dizzy
with steam. A room where my sidekick
with gunslinger eyes would peel thin skins,
parting a garlic clove with slender fingers.
A place we'd take turns coaxing a pinch
of cayenne, a dash of salt
into the Chicken Basquaise.
Some nights, we'd sample and lick
and taste into the mad hours.
Hunger crawls down my throat
threatening to eat me alive.
Stop, I choke. No time
for coming loose.
I wipe the cutting board clean,
concentrate on each stroke of the knife.
---
About the Author: Pat Phillips West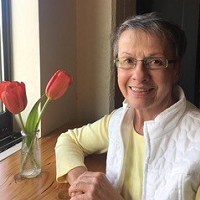 Pat moved so often even her closest friends asked if she was in the Witness Protection Program. She refused to comment, except to say she's in Olympia, WA, for now. Her poems appear in various journals including Haunted Waters Press, WA129+, San Pedro River Review, Modern Creative Life, Slipstream, Gold Man Review and elsewhere. She is a multiple Best of the Net and Pushcart Prize nominee.