My brilliant and balding
father had interests
tending to the cerebral but
in those years when my sister
and I were big enough
to shovel, yet still biddable,
he planted a series of gardens
in the back yard.
For a few summers
we feasted on hand-picked tomatoes
and butter beans, squash and peppers. Then
Betsy and I discovered boys.
Out went half the garden
for a teen-built tennis court—
Mother supplied soda and potato chips
for the six-week-long work party.
The next spring Betsy
and I flat-out refused
so Dad wheedled (or threatened,
I don't remember now)
and we said, OK, we'd help
but only this last time.
My father's final garden:
midget watermelons,
strange-shaped peanuts,
the interesting crop bordered
on four sides by raspberry vines.
Twenty years later neighbors
around the block still cursed
the forgotten gardener
when raspberry canes sprang up
in their green velvet lawns.
---
About the Author: Patricia Wellingham-Jones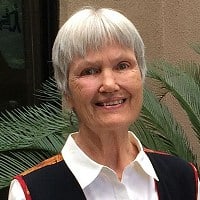 Patricia Wellingham-Jones grew up in a small New Jersey town and has lived, by choice, in little places much of her life. For the past few decades it's been beside a creek in northern California. She is a widely published retired RN, former psychology researcher and writer/editor. She has a special interest in healing writing, with poems recently in The Widow's Handbook (Kent State University Press). Chapbooks include Don't Turn Away: poems about breast cancer, End-Cycle: poems about caregiving, Apple Blossoms at Eye Level, Voices on the Land and Hormone Stew.