They were the Ladies of the Lake, Annette, Fran and Eulah. Their collective history at Otsego Lake covered nearly 300 years and they knew the territory like the back of their hands. I was fortunate to know them all, but Eulah was the one I saw the most often.
Eulah lived till close to her 103rd birthday. Her summer house was separated from ours by a vacant wooded lot, with pines that reached high into the sky, higher than two or three or maybe even four houses if they were stacked atop one another.
The pines shaded a brush-filled area of huckleberry bushes that were naturally mulched each winter by the needles that fell from the trees. A well-worn path cut across the lot, tamped down by the daily visits back and forth between our house and Eulah's as she and my mom would get together for morning coffee (and on occasion, again after five for a drink or two).
Huckleberries are tiny, slightly tart and seedy berries much like a blueberry. They grow low to the ground and turn from a pale green to a deep royal blue, sometimes almost black, every summer. They are a feast for birds, beasts and small children who eat them as they pick, not thinking of the delicacies that could come forth if only they would wait.
Eulah always managed to make "huckleberry pie by the Fourth of July," but we were never so lucky to find the tiny berries so early. (Perhaps she had picked the first round!) My cousins and I would spend a good deal of time in that brush, squatted or bent down, picking the wee berries, hoping to gather enough for a pie. It never happened.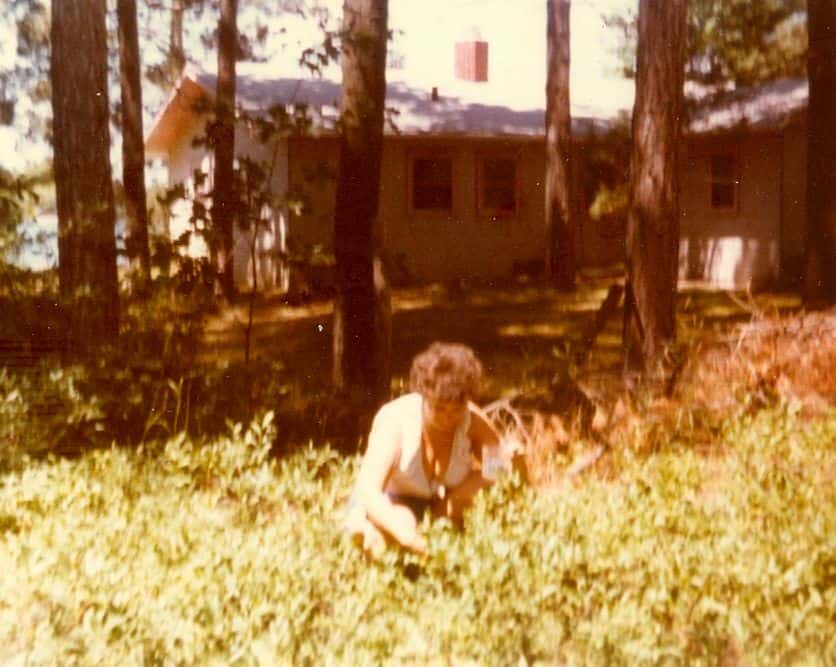 Berry picking could be hard work for those eager to be playing in the water or reclining on colorful beach towels, drenched in coconut scented oil. Crouching down to get the berries while swatting off flies or mosquitoes was never all that joyful and the inevitability of one dropped cup, partially fall, was the cause of great consternation. And yet it was tradition.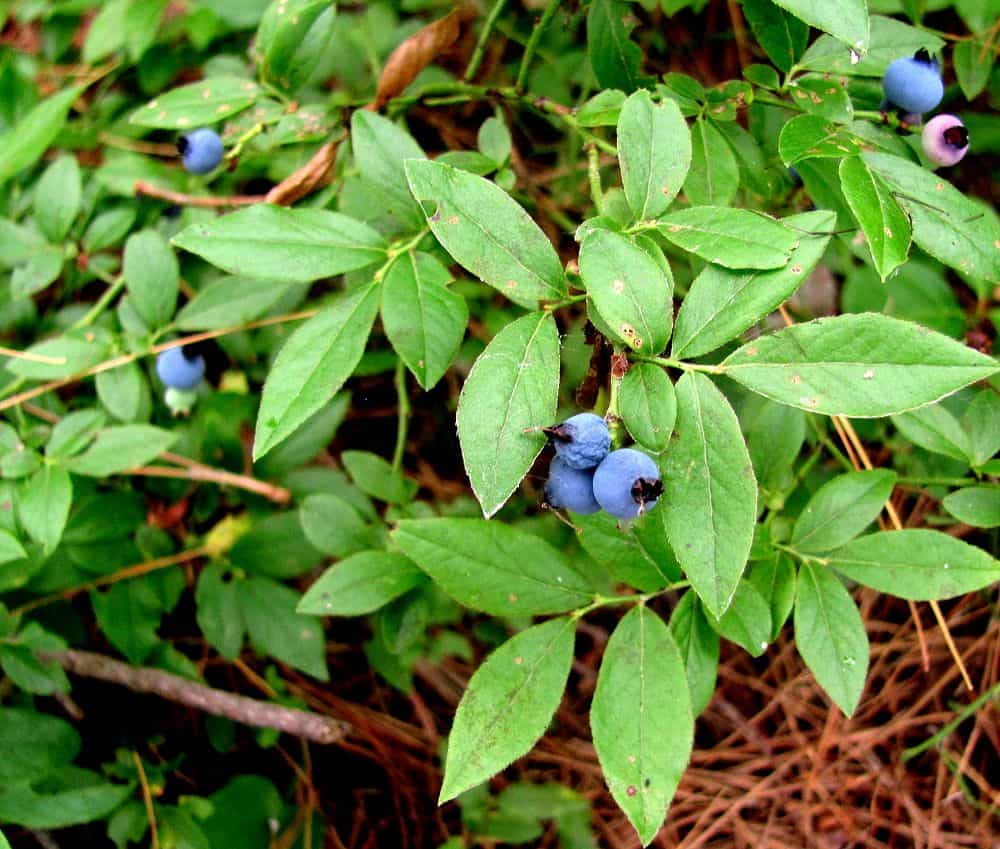 The berries were very tiny. Think of those straight pins with pearly knobs at the top or an add-a-pearl necklace one might give a child. Occasionally we'd find a bush with berries the size of a small blueberry, but, more often than not, they were very small and the yield often disappointing.
If we were lucky, we would have berries for cereal or pancakes. The small berries would look like purple freckles on the sand-colored pancake, and in retrospect it is probably fair to say we couldn't taste them through the maple syrup that was generously poured over our stack. No matter. We were eating pancakes with berries we picked and there was a great sense of accomplishment in that.
Every now and then, the yield would be more impressive, and we might find ourselves with a cup or two of huckleberries. When that was the case, it was time for Eulahberry bread. This sweet quick bread was easy to make in a large loaf or several mini-loaves. When tucked in the freezer and retrieved on a crisp day in autumn was a grand reminder of those sweet summer days.
When Eulah passed, her home and the lot between first went to friends, who later sold it. One night, arriving at the cottage around midnight after a wedding, we rounded the corner and were quite suddenly disoriented. There was a large opening, a gap so large that we could see the lights from the cottages and park across the lake. We very nearly felt lost. Something was missing. It was Eulah's home and the lot between us.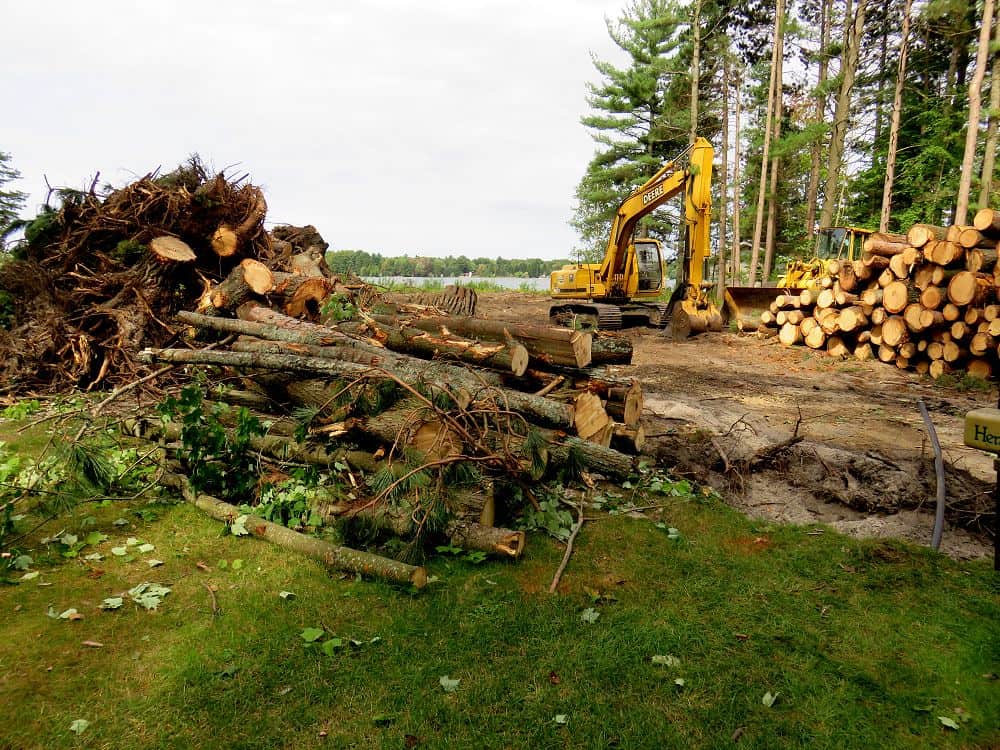 The new owners had razed every single one of those magnificent giant pines over the two lots in preparation of building their new home. Every single tree, not just enough for the footprint of the house and driveway. In time we would see a stark McMansion with no landscaping but a black-topped drive that was large enough to serve as a heliport emerge on the spot.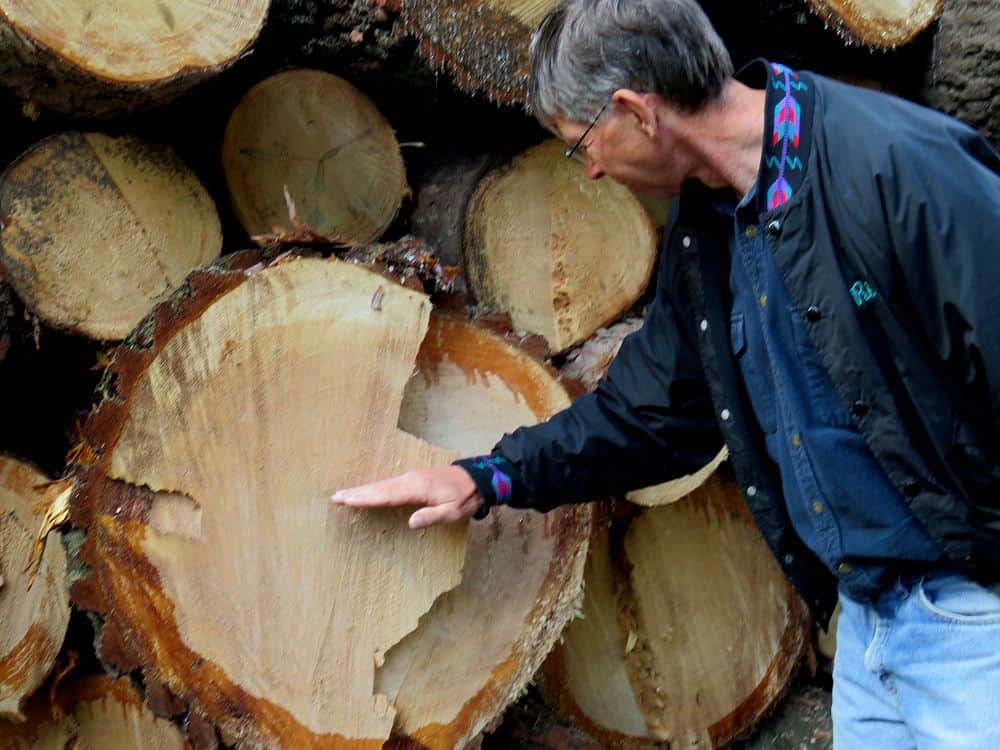 The Eulahberry bushes were gone. I truly believe that if Eulah ever imagined this would happen, she simply wouldn't have died.
There will never be another loaf of Eulahberry bread, although I will continue to make this tasty loaf with blueberries (as the recipe, which harkens back decades in our family, was originally conceived). I'm delighted to share it with you.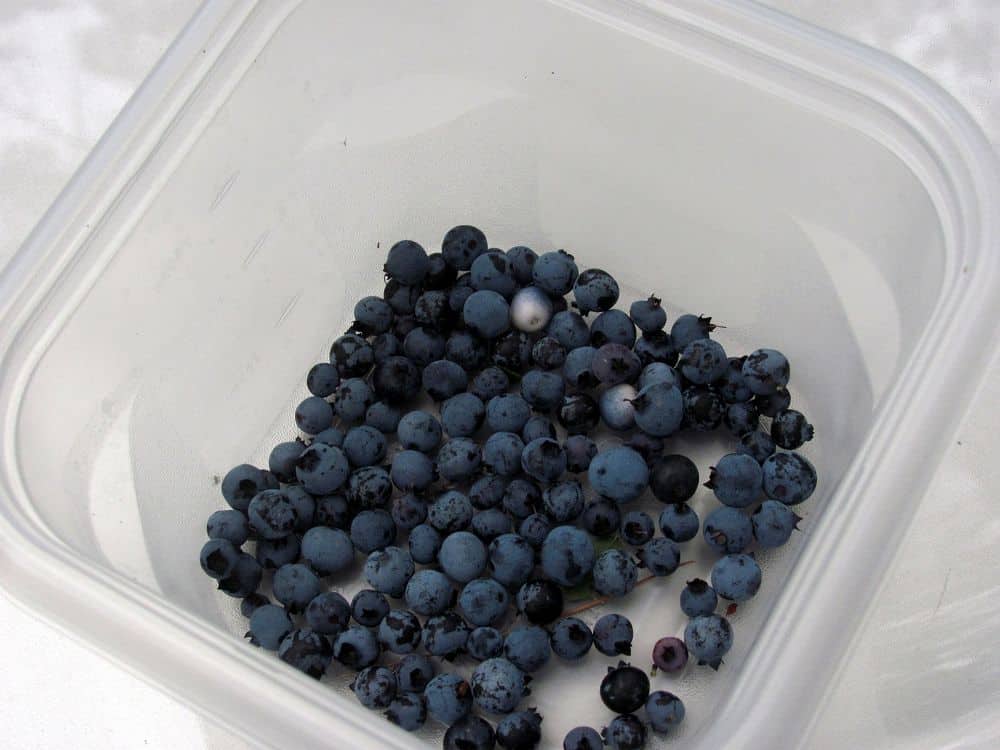 Eulahberry Bread
Preheat oven to 350 degrees. Grease and flour a loaf pan (8 ½ x 4 ½ inches) or four mini-loaf pans (I use the tin foil ones)
Combine in a large bowl with a whisk or spatula:
1 1/2 cups all-purpose flour
1/2 cup granulated sugar
2 tsp baking powder
1/4 tsp salt
Stir in the liquid ingredients until blended but don't over-mix:
1/2 cup milk
1/4 cup vegetable oil
1 large egg
1/2 tsp vanilla extract
Gently fold in:
1 1/2 cups blueberries (washed and dried)
I recommend using about a tablespoon of flour to gently coat the berries and keep them from sinking to the bottom of the batter.
Spoon the batter into the loaf pan or the mini-pans and bake until a toothpick comes out clean. For the loaf pan it is 60-70 minutes and for the mini pans, start checking at 45 minutes, adding 5 minutes at a time if not done.
Cool completely before removing from the pans. You can serve this way or you can make a glaze of powdered sugar mixed with either water or lemon juice. I always eyeball this – you want it loose enough to drizzle over the bread versus a thick frosting. Either way is tasty!
---
About the Author: Jeanie Croope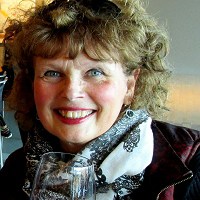 Jeanie Croope wrote her first poem when she was seven and hasn't stopped writing since. Living in Lansing, Michigan and summering in Northern Michigan, she spent more than three decades in public broadcasting, managing events, publications and station communications.
For the past fourteen years she has written the blog, "The Marmelade Gypsy".  An enthusiastic photographer and watercolor artist, she is currently working on a book charting her family's history from the 1700s to present day.