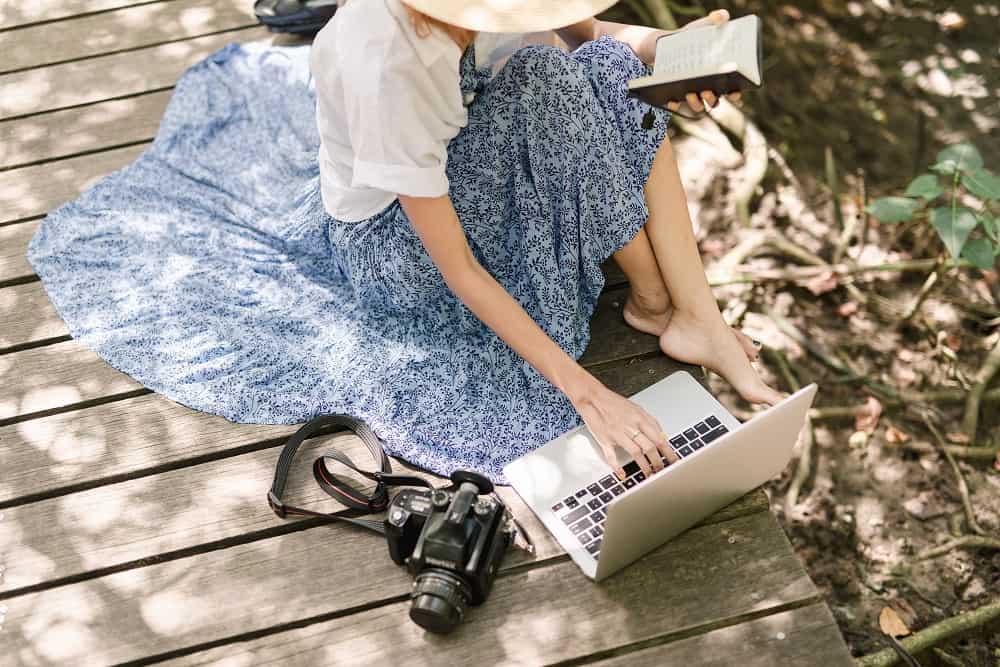 For the last 60+ days, one of my big ah ha moments has been that I miss curating the fine work of other creative souls. While it was the right time to shutter Modern Creative Life when we did so, that doesn't mean that any of us have forgotten what it's like to enjoy the fruits of creative labors.
I'm also finding that I am consistently seeking beauty, stories, lightness, and nostalgia as a way to mentally – and spiritually – survive our modern days of isolation.
In my (Debra's) professional life, I have spent the last two years focusing on ways to improve my SEO (Search Engine Optimization) so that Google (and other search engines) invites more eyes on my work. One of the big factors in an overall view of a person's work is BACKLINKS. What this means is links to your website (or even individual blog posts) from other websites.
So, I decided to resurrect an old project as a way to provide a place for others like me to be nourished by the creative work of others AND promote the good work people are doing.
Enter: Summer Love Notes: Fun & Fancy Free
(brought to you by Modern Creative Life).
Summer Love Notes will publish between June 1st and September 6th at https://summerlovenotes.com . We will share everyone's work on Modern Creative Life's Twitter (@ModCreativeLife)  & Facebook (@ModernCreativeLife)  accounts.

What we are seeking:
Fiction – including fantasy stories, retelling of beloved fairy tales, love stories, and delightful stories of nostalgic times
Poetry – summer, nostalgia, beauty focused
Creative Non-Fiction/ Essays – including memoir, looks back, nostalgia, retelling stories your grandmother told you, childhood memories
Letters – Dear Grandma, Dear 5th Grade Me, Dear Days of Summer Past
Memoir – stories my mother told me, my best summer, summer in love
Lifestyle – encouragement to live a creative life – like The Best $10 I spent for my creative life and such
Arts at Home – Recipes and Crafts and Gardening and such
Photography or Art – even photo essays like "Take a Walk with Me"
Travel – photo essays, best summer vacation you've ever taken, etc.
Books Focused Content – 4 best books I read the summer before college OR 5 books I'd gift every 5th grader) or Favorite Beach Reads, Most beloved Books from my childhood
Book excerpts –  for authors that need some publicity but don't have time to write a blog post
More about what we are seeking can include:
Your submission must not be currently published online.
You may include links in the body of your work and/or your bio. Please include no more than 3 links (not counting links to your website or social channels). This is the help you build backlinks. So, yes, please link to an essay you've published, a course you're selling, a book you have written, or an interview you've done. We want to get more eyes on more of your stuff.
As to length: use your common sense. Shoot for 500 to 2000 words. We can publish a series of connected works as well (think 4 linked short stories).
Please keep your work rated at PG-13 or below. While we are not prudes, we don't want to slip from love story to erotica.
Please include a full bio that links to your website or any social sites you regularly participate. Bios should be under 300 words. And please do include a photo.
You may send us from 1 to 5 pieces of your work for consideration. If you have a specific time frame when you are needing a little extra boost, let us know that as well. For example, if you have a book publishing on June 30th, we'd want to get at least one piece from you scheduled to publish that week.
What we are not seeking
Work that is currently published on-line. However, we will accept work/excerpts for republishing if it's in a physical or digital book, but double publishing online hurts your work and is seen as duplicate content by Google.
Any work focusing on politics, coronavirus, or social justice issues. We don't deny that these are important topics, however, we are seeking to be a place to escape to.
Work that is sexist, derogatory, racist, hate-speech, etc.
Questions or comments?
Please reach out to me or one of the other ladies involved in curating:
Please submit to: ModernCreativeLife @ Gmail.com by August 15, 2020