"Do you believe in Fairies? Say quick that you believe.
If you believe, clap your hands!"
~ James M. Barrie, Peter Pan
I've always loved to garden, but doing large projects started to really hurt my shoulders and back, but then I went to a Renaissance Faire and saw fairy gardens, and I fell in love with the potted words. Though, as it turns out, not all are potted!
Immediately, I set about learning how to make them. I visited a store in Tustin, California (M&N Nursery) which was filled with whimsical creations, and I came home inspired – plus with a lot of plants, a horde of figurines, and the idea for a new mystery series.
I wasn't sure the idea would sell. I mean, let's face it, it is a magical fantasy mixed with mystery, but no one had written about a fairy sidekick. So I decided to try it. The more I imagined it, the more the world of fairies came alive to me. When Fiona flitted into my thoughts, I knew I had to write her story.
What's the basis of the series? Courtney Kelly, the protagonist, lost the ability to see fairies when she was young, but now that she has given up working for her father's landscaping company and branched out on her own to open a fairy garden shop in Carmel, California, she opens her imagination to the possibility that fairies do exist.
Enter . . . Fiona.
Here are a few of my creations. One of the most important things that Courtney suggests is that each scene you create has movement or action to it. Two fairies or friends talking, doing, interacting. That brings life to the garden.
Here is Fiona,
star of my very first fairy garden.
See her squirrel pal with the books?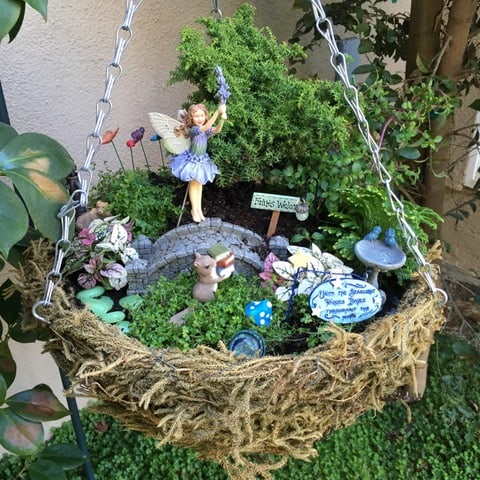 I made a Youtube video of putting this garden together.
You can find that here: Making my First Fairy  Garden
A pianist with the lovely sign: Follow your dreams. They know the way.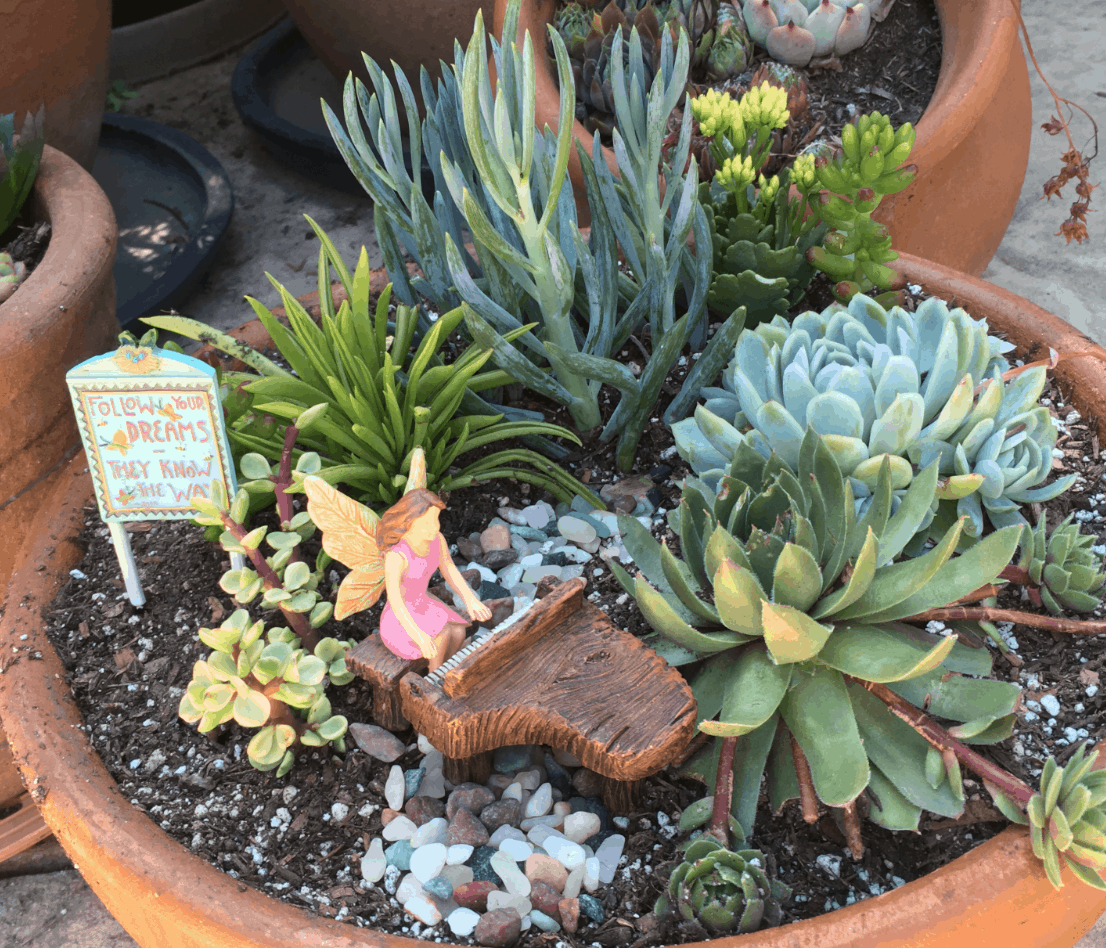 Outside my office, I've created a fairy village.
This little corner is the one I see first when I look out.  Believe!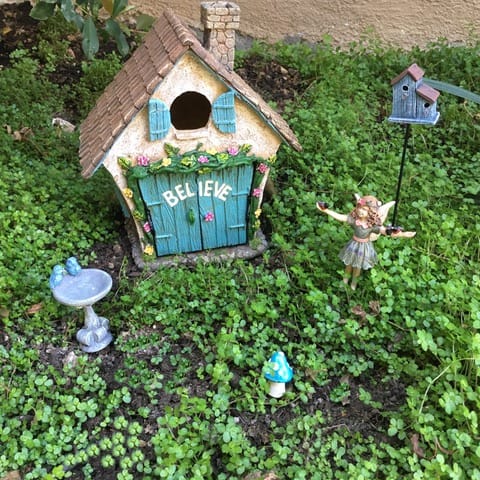 I love having reading fairies and their friends in my gardens,
so I've created quite a few reading scenes.
This one features a hedgehog and his fairy pal.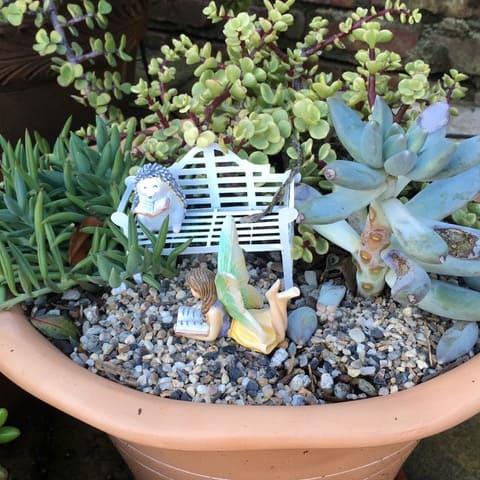 One of my favorite creations is the three-stacked garden I put together.
On each level, the fairies are enjoying their favorite pastimes.
Reading, swinging, and dancing.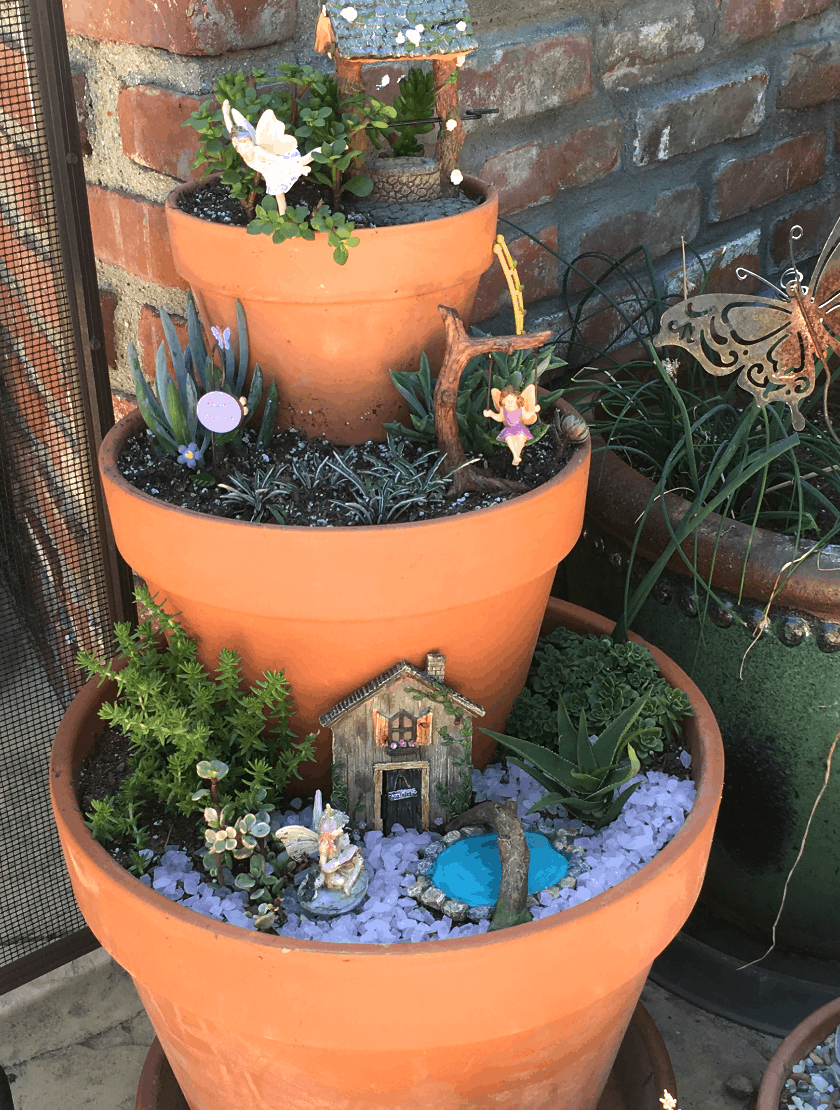 One of Sparky's favorite gardens is where
some impish trolls are spying on three fairies.
I fell in love with the troll figurines and had to have them.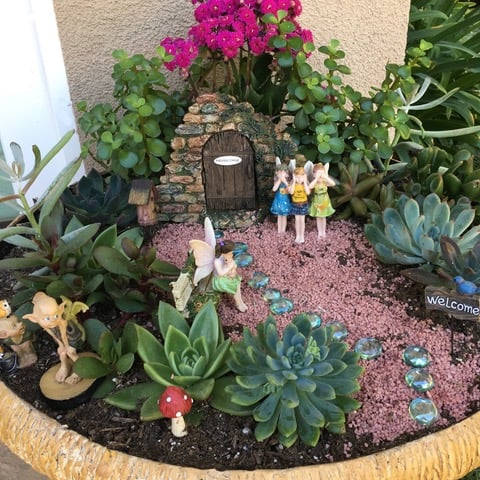 And here is a bookshelf in my office to inspire me.
It's filled with an eclectic array of fairies, gardens, and my reading material.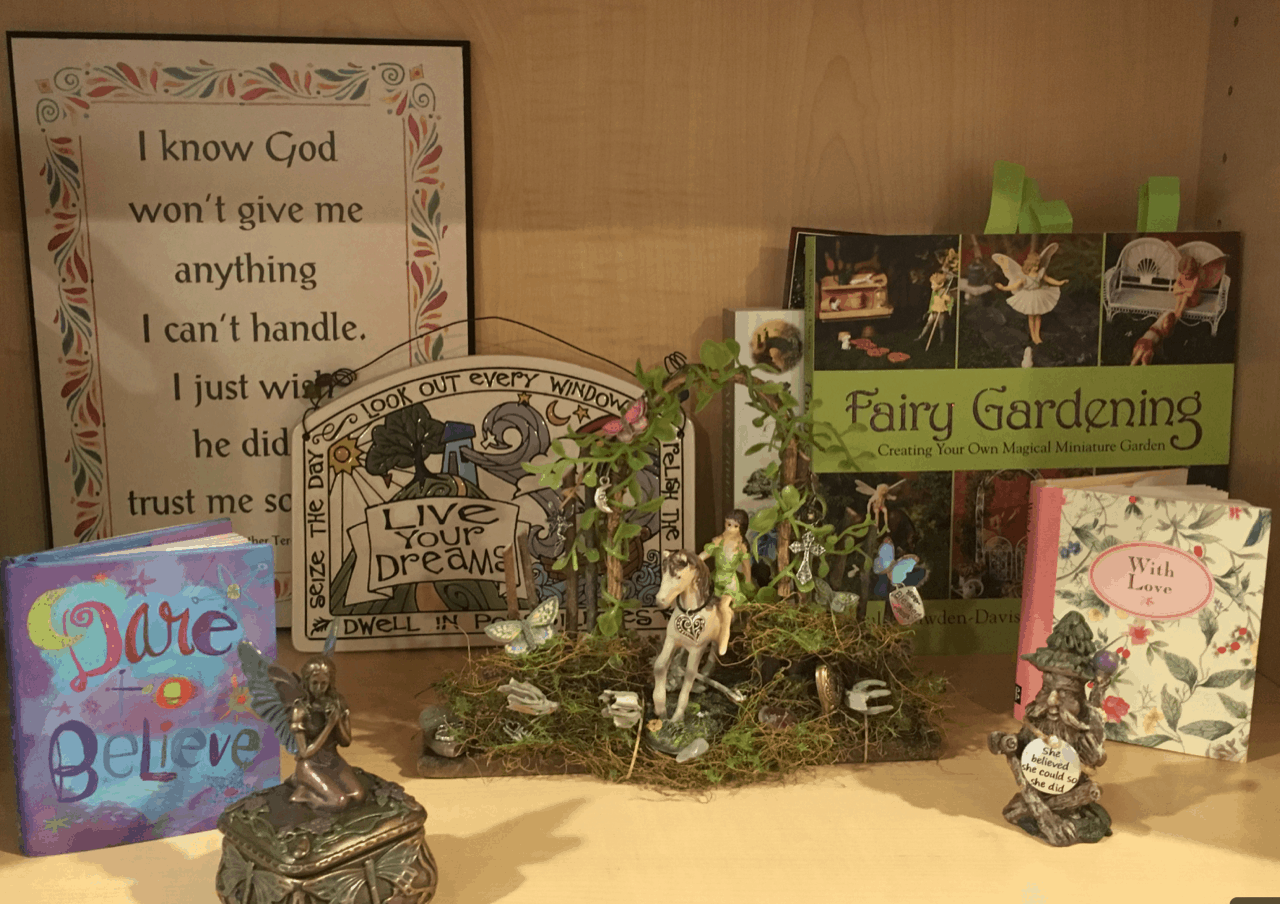 By the way, if you want to know where I shop for my garden items, there is a list on my website, called Other Resources, under the Fairy Garden World. And I also have a handy PDF you can download.
Enjoy jumping into the world of the Fairy Garden Mysteries! Fairy best wishes to you all.  ~ Daryl
---
About the Author: Daryl Wood Gerber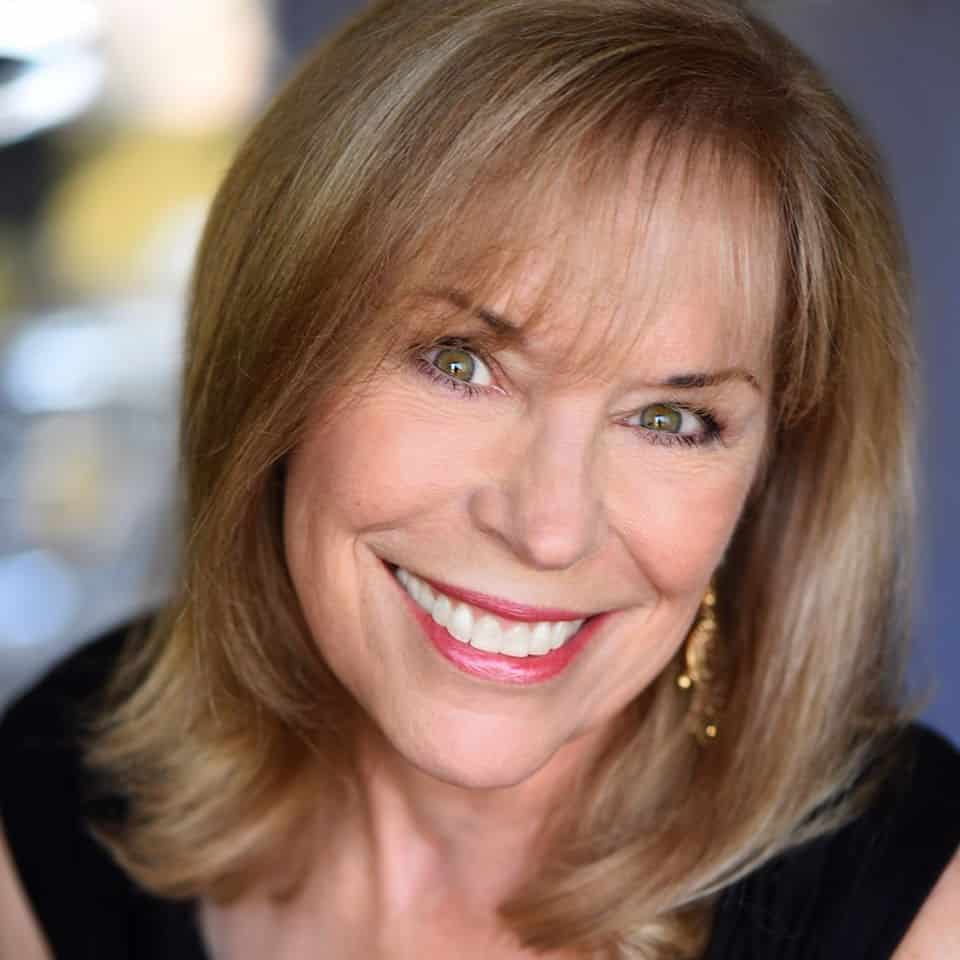 Agatha Award-winning author Daryl Wood Gerber writes the nationally bestselling Cookbook Nook Mysteries as well as the French Bistro Mysteries. She hopes her new series, the Fairy Garden Mysteries, will be a magical new entry in the cozy mystery genre. As Avery Aames, she pens the popular Cheese Shop Mysteries. Daryl also writes the Aspen Adams novels of suspense as well as stand-alone suspense.
Daryl loves to cook, read, fairy garden . . . and she has a frisky Goldendoodle who keeps her in line. Check out website for images of many of her fairy gardens.
Connect with Daryl on the Web: Facebook | Twitter | Bookbub | YouTube | Instagram | Pinterest | Goodreads | Amazon
---
About the 1st Book in Daryl's New Series: A Sprinkling of Murder
Fairy garden store owner Courtney Kelly believes in inviting magic into one's life. But when uninvited trouble enters her shop, she'll need more than a sprinkling of her imagination to solve a murder . . .
Since childhood, Courtney has loved fairies. After her mother died when she was ten, she lost touch with that feeling of magic. A year ago, at age twenty-nine, she rediscovered it when she left her father's landscaping business to spread her wings and start a fairy garden business and teashop in beautiful Carmel, California. At Open Your Imagination, she teaches garden design and sells everything from fairy figurines to tinkling wind chimes and trickling fountains. Now she's starting a book club tea.
But the light of the magical world she's created inside her shop is darkened one night when she discovers neighboring dog-grooming business owner Mick Watkins dead beside a fountain. To make matters worse, the police suspect Courtney of the crime. To clear her name and find the real killer, Courtney will have to wing it. But she's about to get a little help from an unexpected new friend . . .
A Sprinkling of Murder is available beginning June 30th and can be purchased at: