Too young for bras,
big enough to roam free,
we tracked the boys in silence
to their hideout in the woods.
Skidded down a leaf-strewn hill,
crouched behind logs slippery with moss,
resisted the taste of mushrooms
rearing from moist earth.
We trailed them across a swamp
on narrow boards laid hummock to hummock,
bit our lips to keep from squealing
when we slipped off into mud.
Goal in sight we raced screeching,
waved skinny arms, howled threats,
harried the boys
from their platform in the tree.
We claimed it our own
with cookies and tea.
The boys never told
their parents.
---
About the Author: Patricia Wellingham-Jones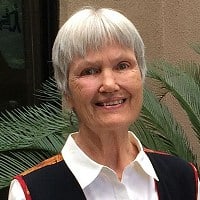 Patricia Wellingham-Jones grew up in a small New Jersey town and has lived, by choice, in little places much of her life. For the past few decades it's been beside a creek in northern California. She is a widely published retired RN, former psychology researcher and writer/editor. She has a special interest in healing writing, with poems recently in The Widow's Handbook (Kent State University Press). Chapbooks include Don't Turn Away: poems about breast cancer, End-Cycle: poems about caregiving, Apple Blossoms at Eye Level, Voices on the Land and Hormone Stew.