Standing in line I think, who am I kidding.
At fifty-three, too old but still a sucker
for the Midway, and this young tatted dude
working the Ferris Wheel pushes my seat
to make it sway as he pulls the lever and laughs,
There you go Darlin.
With just one revolution, I'm a teenager again.
The smell of hay, dry dirt, and manure
leads the way to the livestock pens,
full of fat hogs and heifers, blue ribbon winners.
Short horns and angus being groomed
for the beef cattle contest.
The petting zoo over-run with piglets,
chicks and bunnies.
Walking through big, red, rectangular buildings
I admire displays, hobby collections,
the quilt competition, 4-H exhibits.
There's the drone of vendors hawking crafts,
vacuums, mops, foot vibrators, hot tubs, trees.
I breathe in the aroma of Earthquake Burgers'
caramelized onions, the seductive scent
of hickory smoke from BBQ Pete's wood fire pit,
whiffs of warm butter and sweet dough
at Burin's Elephant Ears.
During the rodeo, I watch cowboys
dressed in tight Wranglers—
belt buckles the size of hubcaps—
rope and wrestle calves to the ground
and ride bulls as big as boxcars
or bucking broncos with names like Firecracker.
In the evening, Willie Nelson's warm,
laid-back whine overlaid with his casual tone
makes me think he's not singing,
but talking to me. Sitting in the top row
of the grandstand, bass bouncing off
the aluminum ceiling, I feel every beat in my bones.
---
About the Author: Pat Phillips West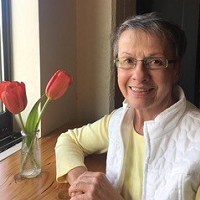 Pat moved so often even her closest friends asked if she was in the Witness Protection Program. She refused to comment, except to say she's in Olympia, WA, for now. Her poems appear in various journals including Haunted Waters Press, WA129+, San Pedro River Review, Modern Creative Life, Slipstream, Gold Man Review and elsewhere. She is a multiple Best of the Net and Pushcart Prize nominee.