She wasn't born in the water, but she feels the ebb and flow of the tides in her veins. She knows the feeling of damp sand under her feet better than she will ever understand the sensation of walking on a sidewalk, wearing shoes.
Shoes seem so wrong.
The beacon from the lighthouse was her nightlight as a child. Her protector. No monster, no demon, no ghost, could tolerate the periodic brightening of her room. She used to check the shadows to be sure.
The big house on the c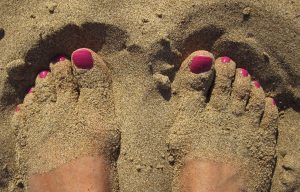 liff was a place she used to fantasize about, lying on the sand, the ends of her hair spread out around her, dangerously close to the nibbling waves, feet pointed up the hill, tan, sandy, pink toenails contrasting with the colors of surf and shore.
She never expected she'd marry into the family that owned the place, when she was a girl, imagining what went on behind those brightly lit windows.
That shadow crossing the top floor windows must be a ghost… she walks back and forth every night.
I think that's The Boy's room. I saw him on the beach the other day… he and his father were launching their catamaran. I saw the shadows of airplanes hanging from his ceiling. I love that he has planes like I have mermaids.
His mother always looks so formidable, with her perfect hair and perfect sunhat; I bet she even has a perfect rocking chair where she sits in front of a perfect fire.
Life goes on, as it  always does, rising and falling like sun and moon, the wind, the ocean waves. She morphs from a child to a girl to a young woman. The Boy from the big house becomes a friend, then a date, then a lover.
He brings a midnight picnic to the hollow behind the sand dunes, where they can see the water, but cannot be seen by anyone who might we walking the beach in the moonlight.
The ring he offers is tasteful, delicate.
"It belonged to my grandmother," he tells her. "She died in a fire at the old inn… the one they're razing to build condos… but her fingers had grown too gnarled for the ring. It's not from a corpse – I swear. She'd have liked you."
She smiles, and accepts the ring, the proposal, the promised future.
She likes the way his kisses taste like salt-water taffy, and the way he's totally comfortable in rolled-up khakis and a chambray shirt, sitting on the sand near a bonfire, and equally comfortable dressed in a coat and tie and shoes (she still hates shoes, but she wears heels because they're better for dancing) that gleam from shining.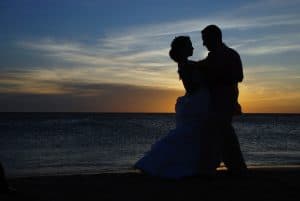 She loves the way his brown eyes hold secrets only for her, and the way he shivers when she teases the nape of his neck with bunny kisses. She loves the way his lean, athletic body (he lettered in crew and baseball) fits with hers.
Their first time was not on the beach – beach sex is much less romantic that it sounds; sand gets in all kinds of uncomfortable places – but it was illuminated by the lighthouse's beacon, which visits his bedroom, just as it always visited hers.
At their wedding she wears a gown of silk velvet, but her hair is down, and instead of a veil she wears a ring of flowers with a few seashells sewn in. She threatened to go barefoot but found pale gold sandals and wore those instead.
He vows to support her art, her music, her writing.
She promises to support his sailing and toymaking – the airplanes from his room have become more than a boy with a balsa-wood kit; rather, they are now his livelihood.
They agree that if children come, or if they don't, they'll be equally happy.
As soon as the ceremony is over, she kicks off her sandals. Their first dance is on a wooden floor embedded in the sand, and the crashing waves feel like an integral part of the music.
Champagne goes to her head. She is giddy, joyful, invulnerable. She scampers back and forth at the water's edge, flirting with the foam, letting the cold Atlantic kiss her toes the same way The Boy – now Her Husband – kisses her lips.
When she stumbles, he is there to catch her, bring her away from the surf. "Never," he tells her, "wade while wearing velvet. It soaks up the water, becomes heavier than lead."
She nods blindly. Her head is swimming. Surely, she wasn't in that much danger?
Years fly by. For their thirtieth birthdays they spent a week in Belize sailing and snorkeling. For their fifteenth anniversary they leave their seven-year-old daughter at home and spent a week in the  keepers' cottage of a lighthouse in northern California.
When their daughter turns eighteen, they rent a yacht and tour the Caribbean for a month, before sending her off to her ivy league university.
But the Caribbean, the Pacific, these waters are not home.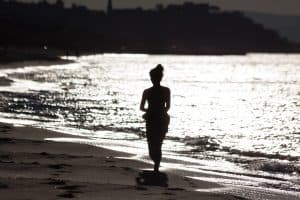 At their daughter's wedding, she again wears velvet, but this time it's not white, but the color of coffee and cream.
She still kicks off her shoes as soon as the ceremony is over.
And she still gets too drunk from just a few sips of champagne.
She wasn't born in the water, but the undertow caught her skirts, and she died there, no longer a young girl with a lifetime of possibility ahead, but still too young for it to be over.
They fill her casket with shells and dried flowers, so the scent of the sea will always be with her. And The Boy – The Man – Her Husband – Her Widower – slips a piece of saltwater taffy between her lips before they close the lid – to remember him.
The beacon from the lighthouse was her nightlight as a child. Her protector. No monster, no demon, no ghost, could tolerate the periodic brightening of her room. She used to check the shadows to be sure.
Well… most ghosts.
Because now that she's dead, the beacon is her chariot, carrying her into the room that was once hers, and where now a strange child sleeps. She soothes a nightmare away with a cool hand and promises that the light will keep him safe.
She visits the attic workshop where her husband, the toymaker, is creating models of lighthouses that really light up.
She sits on the window seat in the bedroom that used to be his but is now where their granddaughter sleeps when she comes for the summer. All strawberry braids (like hers) and dark eyes (like his) the child loves the sea and makes wishes on the lighthouse beacon.
The strawberry child never knows that her grandmother really is there with her in spirit.
But when she meets The Girl from a few houses down the cliff, the one who always smells like ships and tar and adventure, she decides to wear her the silk velvet gown that her mother, her grandmother also wore.
And she promises her grandfather, gravely, with dark eyes wide and luminous, that she will never, ever wade while wearing velvet.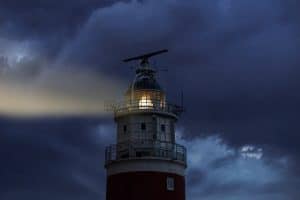 ---
About the author: Melissa A. Bartell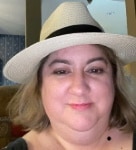 Melissa is a writer, podcaster, sometime-voice actor, and collector of hats and rescue dogs. She lives in Texas with her husband and their four dogs. She can be found on her blog, MissMeliss.com, her podcast page, BathtubMermaid.com, and her book review site, Bibliotica. You can also connect with her on Facebook, Instagram, and Twitter.